If you're feeling lost, stuck, or overwhelmed in your business, create a business strategy to help you pinpoint your biggest business goals and create an effective method for achieving them so that you can create the success you are craving. Wondering how to create a business strategy? This article walks you through the step by step process for annual strategic planning or quarterly strategic planning. This is the ultimate guide on how to create a business strategy so that you can start your business, grow your business, and see fast results.
---
Starting a business was one of the best decisions I have ever made.
Choosing to follow a dream I had burning in my heart and commit to making it a reality was also the most courageous thing I have ever done and required a great deal of personal bravery and the commitment to take action even when I felt the fear.
I was raised by lovely parents who grew up in Soviet Russia just after the Great Depression, which means the values that my family held were always centered around getting a stable job that paid well, even if it sucked your soul dry.
It was challenging for me to make the decision to quit my cushy corporate job and dive headfirst into entrepreneurship, but I am glad I did.
There have been many ups and downs over the course of my entrepreneurial journey, but the one thing that challenged me most was the lack of instruction from a 'boss.'
Being the person responsible for the success of your business is a heavy load to bear, and I found myself spinning in circles of indecision more often than I would like.
Should I say yes to this opportunity?
Am I working on the right things?
When will I start to see my revenue climb?
Is this really going to sustain my lifestyle eventually or will I struggle to make ends meet?
What if I build a business I hate?
Should I be doing what ___ is doing with their company?
Maybe I should pivot…
Can you relate?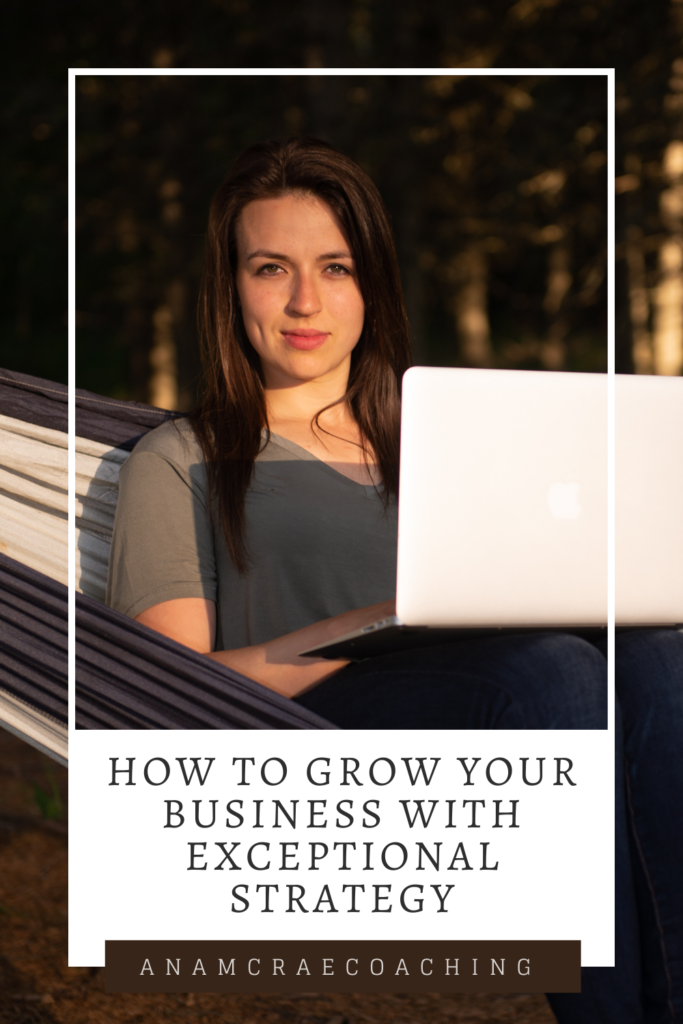 I am a structured person who loves a good plan, and I found myself caught up in self doubt when I wasn't clear on the direction I was heading in.
Luckily for me, I've been working with entrepreneurs my entire corporate career, helping them find and act on opportunities to grow their businesses and make more impact. Part of this work always included strategic planning. I decided I would walk the talk, and create a strategy plan for my own budding business… That's when the tides turned for me.
Having a clear strategic plan for my company in the early stages established a direction and created mental clarity.
With that, I was able to focus on results producing activities which helped me achieve the success I was looking for sooner rather than later.
If you have an established business, a brand new baby business, or are thinking of starting a business, you can achieve great results by implementing a strategy plan.
This article will walk you through the step by step process for creating a strategy plan for your business so that you can be confident in knowing you are working on the right things and your efforts will yield massive results.
And don't worry, I will break it down for you so that you don't need an MBA or 37 cups of coffee to get through a pile of dry material.
Once you learn this easy process, you will realize strategic planning is so much fun!
What is strategic planning?
When you create a plan for your business that's aligned with the vision you see for yourself in 10 years, you are creating a strategic plan.
An effective strategic planning process can help you clarify where you're going, nuance the actions that matter from those that don't, and establish a solid strategy for achieving your business goals.
It's important to have a strategy plan when you're starting a business because there are so many directions you could take your business in. The opportunities are endless and can create a lot of distraction and decision fatigue when you haven't narrowed down your focus.
Having a clear vision allows you to work on the right things so that you end up where you want to go.
If your business has been around for a while, a strategic plan continues to play a pivotal role in your success.
It allows you to identify opportunities that could scale your revenue and impact further, and pinpoint weaknesses that need to be addressed in order to get to the next level.
How do I create a strategic plan for my business?
In this article, I will teach you a simple process for creating a strategy plan that will allow you to create an abundance of success for your business. 
This process has been used with small, medium, and large companies all over the country. It's been used with non profit organizations and different sectors of government.
The companies I've worked with pay thousands of dollars to learn and implement this in their businesses because it works. And it works for everyone. Luckily for you, you're getting all of this content for free! So let's dig in.
The first step in your strategic planning process is to create your hedgehog.
What Is The Hedgehog Concept?
The fox knows many things, but the hedgehog knows one big thing.

ANCIENT GREEK PARABLE
This concept is based on the notion that foxes will try different strategies to attack a hedgehog: sneak up on it, play dead, jump at it, run straight toward it. Foxes pursue many opportunities at the same time, exerting effort in unfocused ways. But they never win. Meanwhile, a hedgehog embraces simplicity and places all of its effort in achieving one big goal: staying alive (by rolling into a prickly ball). It succeeds every time.
Your business is the same.
Without a clear understanding of what you're passionate about, what you're good at, and what brings in money, you will fail to make the kind of traction you need to create a successful business.
How to create a hedgehog for your business
There are 3 steps to creating a hedgehog for your business.
First, you need to ask yourself "what am I deeply passionate about?"
The things that light a fire in your heart are the ones that you will be inherently motivated to work toward.
When the vision for your business is aligned with your interests as a person, your success will be unprecedented. It is so important to nail this part down.
Related post: How To Find Your Purpose In Life
In my coaching business, I am deeply passionate about helping ambitious people achieve impossible goals so that they can build fulfilling lives exploding with joy. What is it for you?
Next, you need to ask yourself "what can I be the best in the world at?"
Understanding what differentiates you from the competition is crucial in getting your ideal audience to understand why they need you/your product/your service.
When you're clear on what makes you different, you can focus on providing unique value to your clients.
In my industry, I am exceptional at helping you find your purpose, design a plan to center your life around it, and do what it takes (mentally, and physically) to get it done. What are you great at?
Finally, you need to ask yourself "what drives my economic engine?"
What generates consistent cash flow in your business? What will people pay for? What's the most important measure of your financial success?
In my coaching business, 1:1 coaching calls drive my economic engine, and other contributors are group coaching programs, online courses, public speaking engagements, my writing, and strategic business planning workshops. The key driver of my economic engine is # client calls per week.
Knowing this allows me to prioritize actions that lead to an increase in this key metric, which creates the financial success that is required to keep my business going strong.
Once you've identified the possible answers for all three questions, look for the overlap.
Your core business should fall right in the middle of those three things: it should be something you're deeply passionate about, exceptionally good at, and will get paid for.
And don't wait for a big a-ha! moment. Most often, your hedgehog is something you've always been aware of, it just needed to be articulated clearly.
[The hedgehog concept] had none of the tiresome, irritating blasts of mindless bravado …"Yep, we could be the best at that" was stated as the recognition of a fact, no more startling than observing that the sky is blue or the grass is green. When you get your Hedgehog Concept right, it has the quiet ping of truth, like a single, clear, perfectly struck note hanging in the air in the hushed silence of a full auditorium at the end of a quiet movement of a Mozart piano concerto. There is no need to say much of anything; the quiet truth speaks for itself.

JIM COLLINS
You can read more about the hedgehog concept in Jim Collins' book Good To Great.
By the way, there's nothing I love more than supporting you with figuring out what you want in life and making it happen. If you'd like to receive weekly tips and strategies for building a thriving business and living a fulfilling life, join our intimate email community by signing up below
You'll get access to many resources exclusively for members, helping you define, plan for, and achieve your biggest business and personal goals.
The second step in your strategic planning process is to perform a SWOT analysis.
What is a SWOT analysis?
Don't run away yet. A SWOT (strengths, weaknesses, opportunities, and threats) analysis is simply a process that helps you get really clear on what you're good at and what you need to improve.
Strengths are internal.
What are you particularly good at?
What are your business' strongest points?
How are you crushing the competition?
What do you receive rave reviews about?
What do you feel confident in?
As an example, holding insanely valuable discovery calls is one of my strengths. (You can snag a free one here!)
Opportunities are external.
What opportunities could you capitalize on?
What's going on in the outside world that could benefit your business if approached strategically?
Who do you know that could help you with a certain thing?
What exists that you haven't taken advantage of yet?
A big opportunity for my business this year was the rise of people looking to change their careers after COVID-19 hit.
Weaknesses are internal.
What are you not great at?
What needs to be improved in your business?
One of my weaknesses is Instagram marketing. Acknowledging that helps me prioritize learning more about it in order to capitalize on it.
Think through all the areas like your financials, your customer interactions/reviews, your processes (marketing, selling, brand, innovation, producing, servicing, creating content, customer experience, training, hiring, tech systems, etc.).
Threats are external.
What is happening in the world that could threaten the stability of your business?
What is the competition doing that could take you down?
Are you exposing yourself to any legal, financial, or regulatory risks?
The SWOT analysis doesn't take very long, and is essential for getting a bird's eye view of the landscape in which you find yourself in.
From here, you can create strategic focus. You can pick the right things to work on that will give you the best results because you've thought through all of the factors (internal and external) that will help or hinder your business.
The third step in the strategic planning process is to establish a strategy map for your business.
What Is A Strategy Map?
A strategy map is a tool that helps you understand how all of the different parts of your business funnel into one big goal (your vision). It is important because it allows you to make massive progress toward one goal, rather than moving an inch at a time toward many goals.
How do I create a strategy map for my business?
There are 3 key components to creating a strategy map for your business: identifying the areas of your business, selecting initiatives to focus on this year, and confirming that they align to one big vision.
First, you need to define the areas of your business. This is usually pretty standard, but you can definitely tweak it as needed.
There is a financial line, a customer line, a process line, and a learning line.
Then, you need to decide the areas that are most important for you to improve (usually within a 90 day time frame).
For example, your big financial goal could center around
Your customer goal could center around
Repeat buying: are your people coming back for more of your product/service?
Referrals: are your customers saying great things about you and sending their friends over?
Reviews: are your customers happy with your service?
New customers: do you have enough new business coming in?
Your process goal could center around
Brand: how well do people know you and do they think highly of your brand?
Marketing & Sales: how well do you attract your ideal audience and motivate them to purchase your product/service?
Innovation: how current are your products and are you coming up with new ideas? Do you have enough revenue streams in your suite of offerings?
Production/Service Delivery: how well are your current products/services performing? Are you delivering value effectively?
Customer Satisfaction: how happy are your customers with the service they are receiving?
Your learning goal could center around
Leadership: are you managing your team well?
Strategy: are you leading the company well?
Alignment: is everyone in your business working toward the same vision?
If you are a solopreneur, your learning goals would be more of a reflection of your personal skills
Marketing/Sales: are you good at it?
Bookkeeping: are you compliant?
Expertise: are you world class in your industry?
Financials: do you understand your numbers?
Let's walk through an example of how to establish strategic goals for your business.
Julie's coaching business is doing well, but she'd like to grow it. She decides to focus on revenue as her financial goal: "maximize revenue". In order to do that, she really needs more customers coming in the door. The ones she has are loving their service, giving rave reviews, and referring their friends, but she doesn't have enough new business coming in. In her customer line, she decides to focus on "new customers knocking at my door." In order to do that, she needs to focus on marketing and sales. She chose this because she knows her current services are fantastic (don't need to improve her production/service delivery process), and doesn't feel like it's the right time to come up with more service offerings (don't need to innovate), when there isn't enough business coming in. So she makes her process goal "create an effective marketing funnel". Finally, she realizes she has no background in marketing/sales and needs to improve her skill set. Her learning goal becomes "understand marketing/sales psychology." 
Here's what Julie's strategy map looks like:
Financial: maximize revenue
Customer: increase new customers
Process: improve marketing effectiveness
Learning: increase knowledge of marketing/sales psychology
These are general goals, but they begin to lay the foundation for your strategic plan.
The last step in creating a strategy map is ensuring it all funnels toward your one big vision.
To do this, read your map from the bottom up.
Julie, from the example above, would say "I am going to increase my knowledge of marketing/sales psychology, so that I can improve the effectiveness of my marketing process, so that I can increase the number of new customers I serve, so that I can drive up revenue… so that I can hit my vision of $1,000,000 in 10 years."
In this case, it all funnels up. You'll know if you don't have it quite right because it won't make sense when you read it from the bottom up.
The FOURTH step in establishing a strategic plan for your company is laying out the gap you're aiming to close.
Laying out the gap
Now that you've laid the general foundation of areas to improve in the next 90 days, it's time to get more specific in what that could look like.
Think about where you are now, and where you want to be in 90 days, for each business area that you chose to improve above.
Revenue improvement examples
From $1,000/month to $3,000/month
From inconsistent revenue to consistent revenue
Bringing in new business examples
From 1 new client/month to 3 new clients/month
From 5 discovery calls/month to 15 discovery calls/month
Marketing improvement examples
From people having no idea what I do to people knocking on my door
From 200 email list subscribers to 500 email list subscribers
From inconsistently marketing myself to having a clear strategy that works
Learning examples
From having no idea what marketing is to feeling confident in my marketing abilities
From not knowing whether I'm tax planning correctly to following an established tax planning process
From not creating time for personal growth to spending 1 hour each day learning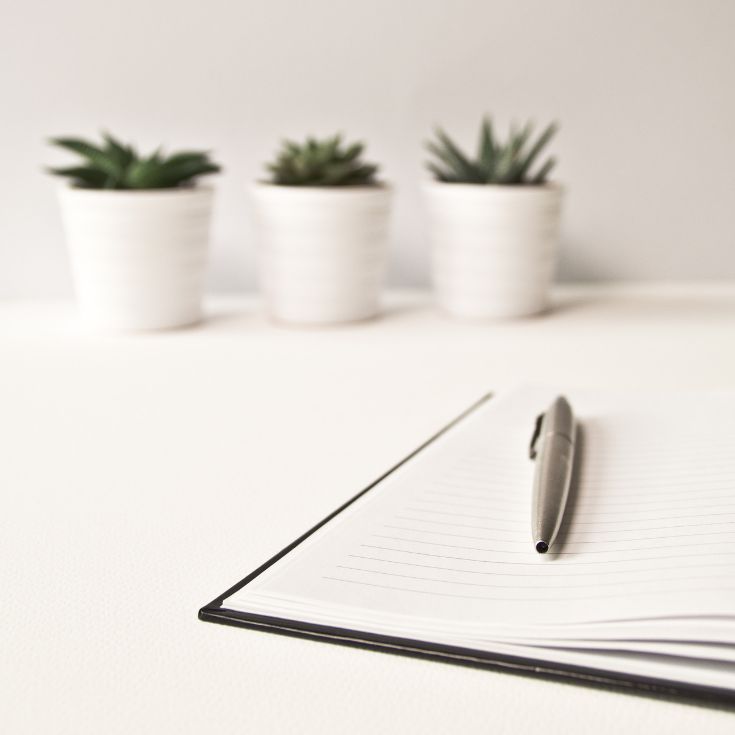 Having your "gap" laid out like this allows you to get really clear on where you are today, and where you would like to end up.
With that kind of clarity, you can create your action plan with ease.
Once you've created the gap, brainstorm HOW you could achieve these goals. This doesn't need to be complicated, just get down on paper everything you could do to close the gap you've identified. Do you need to take a course? Get a coach? Rework your routine? Research something? Lay out a plan? Meet someone for coffee?
Brainstorming various ideas without censoring yourself will give you a pool of options to choose from when we finally pull together your business action plan in the final step of this process!
The FIFTH Step in establishing a strategic plan for your business is laying out your action plan.
What Is A Business Action Plan?
A business action plan ties together the various pieces of your strategic planning process into a clear and actionable plan that you can start working towards immediately.
If we continue using Julie's example, her business action plan would look like this.
Strategic Area
Objective
Timeline
Measure
Actions
Owner/Due Date
Revenue
$3,000/month consistent revenue
August 31
$/month

% months hitting target
Create payment plan option to increase consistency
Julie by May 30
Customers
3 new clients / month
August 31
# new clients onboarded


# discovery calls held
Improve discovery call structure to increase conversion

Launch a free discovery call campaign
Julie by June 15



Kate by June 30
Marketing
500 email list subscribers
July 31
# subscribers

% posts with CTA to subscribe
Create sales funnel

Improve call to action on website
Kate by June 20

Julie by July 1
Learning
Completed 1 course
June 30
hours/week spent on course work
Purchase a marketing course
Julie by June 1
How Do I Create A Business Action Plan?
Start with the strategic business area you chose to improve this quarter in the previous step.
Nail down the exact objective you are working toward
Ensure it is
Specific, as in you know exactly what you're aiming for and there is 0 tolerance for vagueness
Measurable, by assigning a number to it
Actionable, as in you are able to influence the outcome
Realistic, when you consider your other commitments
Timebound, assign a deadline in the "timeline" column
Decide what measures are important to track
You want a measure that directly reflects your objective (so if it's increasing revenue/month, then you want to track $ revenue/month). This is a lagging indicator.
You also want 1-2 leading indicators. Leading indicators are secondary measures that impact your primary measure.
For example, if your primary measure is revenue, then your secondary measure might be # of sales calls made. The more sales calls you make, the more likely your revenue is to go up.
It's useless to track only revenue, because you aren't creating visibility to your efforts and how they're impacting your results.
Determine the actions you (or your team) will take to achieve this strategic improvement over the specified timeline
You brainstormed a few options in the previous step, now determine which ones will yield the highest return with the least amount of effort. Which actions make sense to take on first?
Finally, assign a deadline and an owner to each action. Who is responsible for getting it done and by when?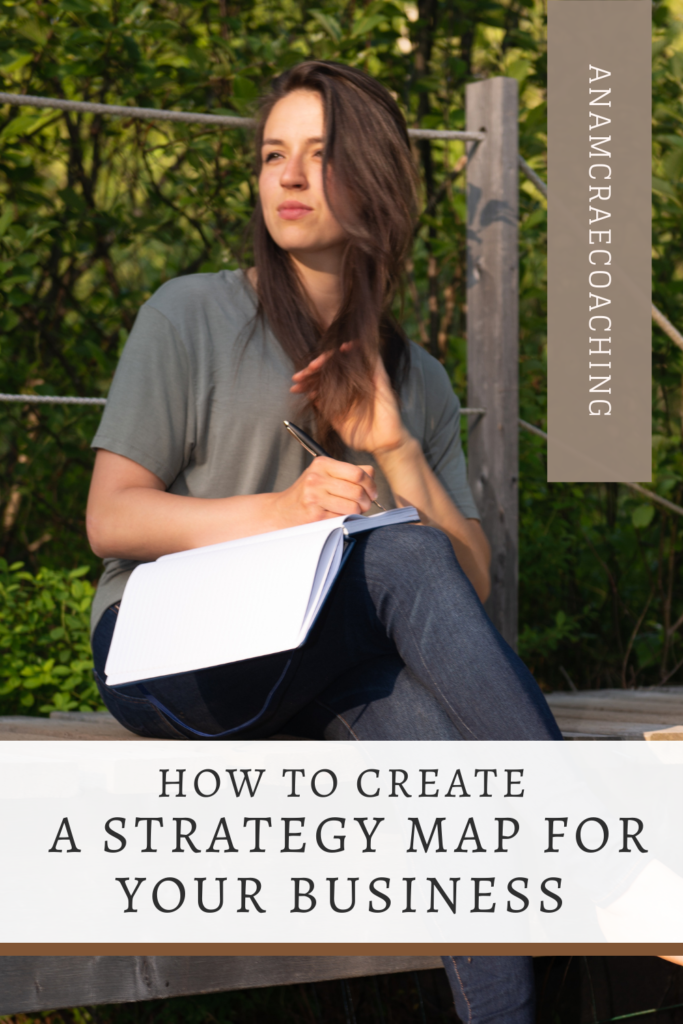 Conclusion
A strategic plan for your business creates the focus you need to achieve bigger and better results.
Putting in maximum effort without taking the time to step back and consider your objectives creates burnout with very little to show for it.
When you follow a strategic planning process, improving your business success becomes an easy, repeatable habit.
I know this process has done wonders for my business when I was just starting out and had very little clue as to what I wanted to achieve and how.
It has also done wonders for very well established businesses that have a lot going on and need to align their troops toward one strategic mission.
I hope it works well for you in helping you not only identify where you're heading and what you'll do to get there, but also to get excited about this journey you're on and this beautiful business you are building.
If you want to bulletproof your strategy, I've created the best business coaching program for you. I'd love to work with you one on one to identify the exact results you're aiming for and the key actions that will generate the success you're craving.
Join the world's most ambitious entrepreneurs in accomplishing "impossible" goals today.
---
Related posts:
---
What goals are you working toward in your business this year? Let us know in the comments below!